Lesbian Travel: 4 Things To Know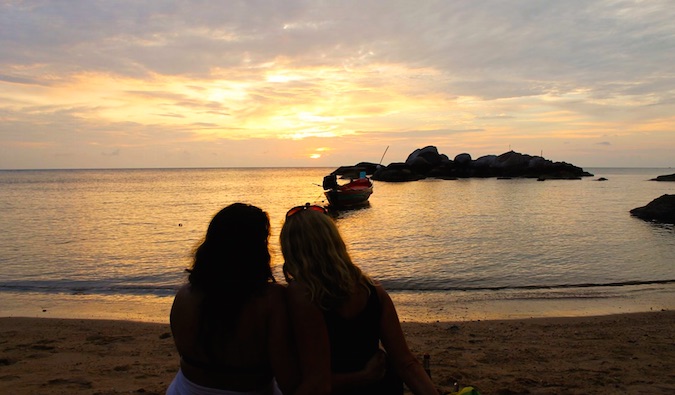 I?ve added an LGBT column for the website to make the site more inclusive and talk about issues that affect some members of our travel community. In this column, we will hear from voices in the LGBT community about their experiences on the road, safety tips, events, and overall advice for other LGBT travelers to get the most out of their time on the road! This month, Dani from Globetrottergirls is discussing lesbian travel. 
While sitting at the rooftop pool of my hotel and sharing beers with other travelers over sunset, the ever-dreaded question comes up: ?Do you have a boyfriend"?
Here we go again, I think to myself, another coming out.
Though I've had this conversation hundreds of times, the words ?I?m gay? still don?t come easily, especially because I never know what reaction to it will be.
Will the situation get awkward" Will someone make a homophobic comment"
It?s never a simple affair. Instead, it usually results in a number of questions where I feel like I'm the ambassador of all things lesbian ? scissoring, dildos, and why some women choose an androgynous look – to a group of strangers I just met.
Like gay travel, lesbian travel presents its own set of challenges.
If you are a femme lesbian or couple, it isn't much different from solo female travel. Nobody is looking at you funny, and you don't need to feel particularly threatened in one of the 76 countries where homosexuality is not legal (in 10 of which it is punishable by death) ? because nobody knows you're a lesbian. When traveling with a feminine girl, it is usually more likely that we?ll get asked if we are sisters than lovers. However, if you are a butch lesbian, it?s a completely different story. It?s much more obvious that you are gay, and you can't hide your sexuality. If you are a femme/butch couple or butch/butch couple, it is nearly impossible to hide your sexual orientation, or the fact that you are a couple, even if you keep the PDAs to a minimum. You?ll definitely notice the looks of other people.
"Don't assume everyone sees you the way you see yourself. Most people will see you based on the stereotypes they were raised with. Your butch appearance is a clear sign to many people in the U.S. that you're a lesbian. In other countries, especially non-Western ones, you might just be stereotyped to being 'a woman with short hair.' I've been mistaken for a man many times before, but most (if not all of those times), they're the ones that are embarrassed about it," says Mindy Postoff, who writes the lesbian travel blog Bounding Over Our Steps with her wife Ligeia.
For butch-looking lesbians traveling for the first time, she recommends: "If you've caught the travel bug, then go to places that have similar societal norms as your own. Go to places where same-sex marriage is legal and pride events are big celebrations."
So, if you're a lesbian about ...
URL:
http://www.nomadicmatt.com/
--------------------------------
A Troublesome Journey Home